Ellos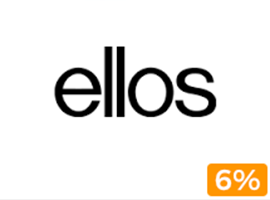 LÖVE what you wear.
At ellos, clothes let you be you. Designed in Sweden, our fashion is modern,effortless, and works for every aspect of your life.
Ellos is plus size women's clothing and apparel online store with a wide selection of stylish items that reflect Swedish lifestyle and design aesthetics. Modern, aesthetically pleasing and designed with the idea of the right balance between quality and value, Ellos clothing ensures that being comfortable and effortlessly chick comes without saying.
Each piece comes with an expert fit and affordable pricetag, in sizes 10 to 34. Orders in the U.S. and Canada can be delivered straight to your doorstep and international shipping to more than 100 countries is available.
Reward: -6%
We use cookies to ensure that we give you the best experience on our website.
If you continue without changing your settings, we'll assume that you are happy to receive all cookies on EasiRewards website.